Vera & John Review
One of the friendliest sounding casinos around, and they pack a real punch when it comes to options too! I have always loved the name "Vera & John" for an online slot casino.
To me, it just sounds drastically friendly; like you are playing with a couple of friends. Now, having dealt with the customer support through Vera & John, I can tell you that this site is incredibly friendly too! Despite the really colourful exterior, however, this site really does pack a lot of oomph when it comes to games and potential winnings.
Bonuses & Promotions For New Players
These, of course, change on a fairly regular basis. At the last check, however, Vera & John were more than happy to match your initial deposit up to £500.
In addition to this, if you love slot machines, and since you are on this website I am guessing you do, you will also benefit from a number of free spins too. The free spins will be for very select machines, so I do urge you to read through the terms and conditions of the bonus offer to know what you are going to get at the moment.
Now, one of the things that I really love about Vera & John is the fact that they don't just try and reward new players. They also have a loyalty scheme in place. If you are a registered customer of theirs already, you will be pleased to know that you will get regular emails which offer all manner of fantastic things.
Software & Games Available at Vera & John Casino
Vera & John may sound like your friendly neighbourhood casino, but it is anything but (well, they are friendly). This is one of the largest casinos online at the moment. This is, in part, down to the fact that a lot of vendors offer their games on the site. At the last count, there were over 500 games that you could play through the Vera & John website. Basically, you are not going to run out of anything to play any time soon.
Now, since a lot of the games are hosted by other companies, there are a lot of progressive jackpots in place. In fact, about 10% of the games that they have on their site are progressive jackpots in some way or another. This means that you can look forward to a pretty high amount of cash if you are lucky enough to win!
The software, since Vera & John only use the best online casino game providers out there, tends to load pretty fast. This means that you will be diving into whatever game you want in a matter of seconds, as opposed to the minutes that it takes for some lesser websites out there to load their games.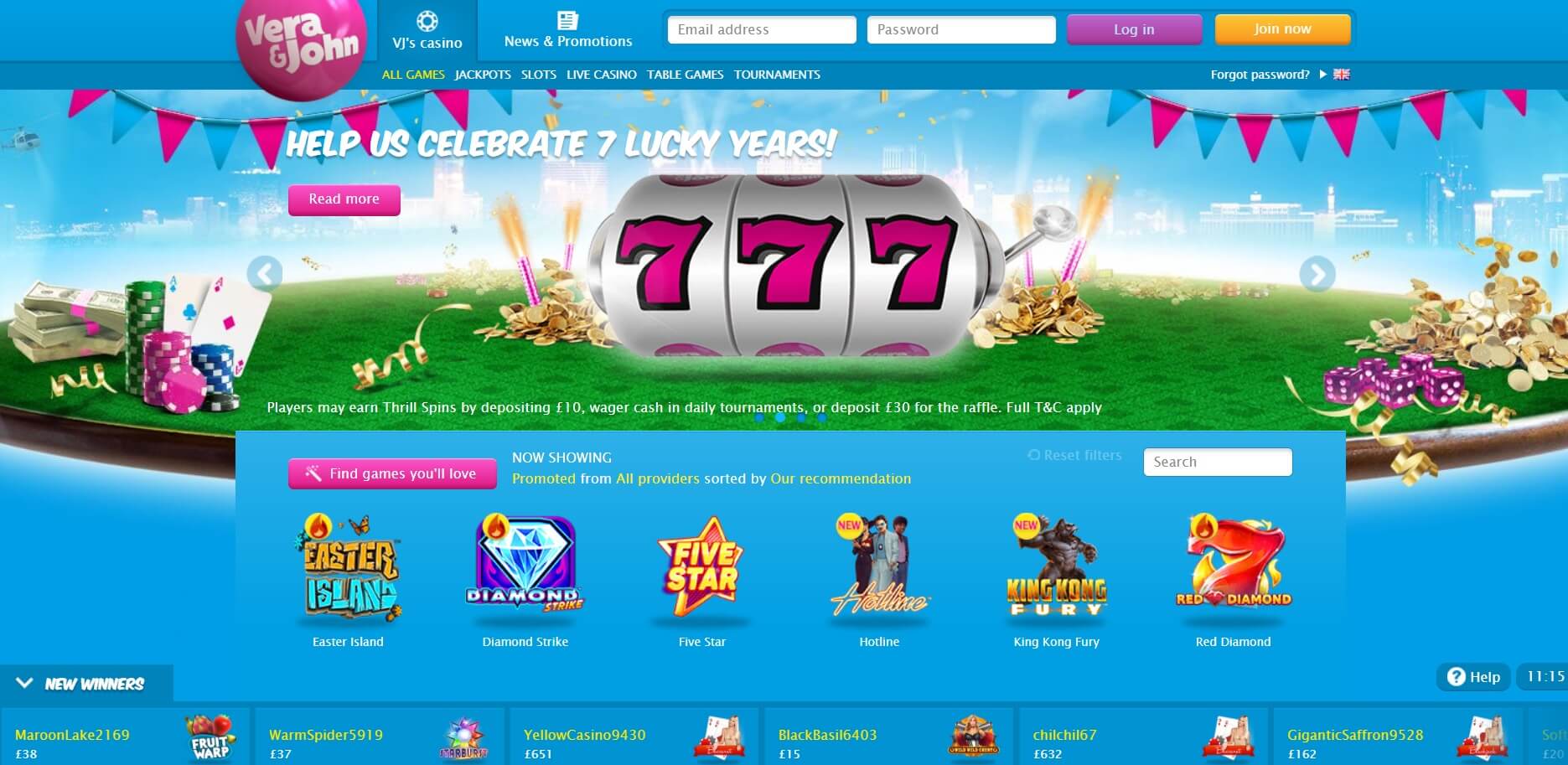 Mobile Games at Vera & John
Vera & John have some of the best mobile games around. In fact, this is one of only a few websites out there which seems to have almost all of the games that they have on their website actually on the mobile app. These games have been optimized incredibly well too, which means that you are going to have a ton of fun playing them, and they should load pretty quickly to boot! I spend most of my time mobile gaming so, this is, obviously, ideal for me.
The account and deposits that you make through your standard Vera & John betting account is accessible from your mobile device. This means that if you get called to do something in the middle of a winning streak, you only need to grab your mobile phone or tablet computer and continue from where you left off. Nobody will stop the prospect of winning money from you!
Summary - What Do We Think?
If you are after top quality casino bonuses in a very friendly gambling environment, then you really should check out Vera & John Casino. This is one of my sites of preference and arguably one of the best casino sites online. If I am interested in learning a new type of slot machine, I know that I can just boot up the Vera & John website and be enticed by hundreds of the things! Many of my favorite slot machines have been discovered through this website. Try now